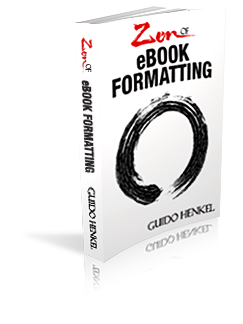 Different eBook formats, so many eReaders, device incompatibilities, software bugs… Do you feel all the technical gobbledegook surrounding eBooks is not something you want to deal with?
Not a problem. You can simply put my years of experience in eBook formatting to work for your next book to make sure you will have a product that is professional, and something you can be proud of, without all the hassle.
Aside from being the author of the book "Zen of eBook Formatting," and preparing and releasing all of my own books as eBooks in a wide variety of formats, including mobi, ePub, LIT, PDF and many others, I have also prepared close to one thousand eBooks for other authors, such as Scott Nicholson, P.A. Woodburn, Gord Rollo, Gene O'Neill, Joe McKinney, Tammy Parks, David H. Burton, Jon F. Merz, Catherine Thorpe, R.E. McDermott, Delabarre Publishing, Redrum Horror, Martha Wells and New York Times and USA Today bestselling authors Tracey Garvis-Graves, Lisa Jackson and Nancy Bush, among countless others.
Client Testimonial

"Guido was indispensable in helping me format some of my novels into eBook format. Always easy to work with and extremely knowledgeable, Guido guided me through the mine field of self-publishing. He is fast, efficient, and really knows his stuff! I can't recommend him highly enough!"
— #1 NEW YORK TIMES and USA TODAY bestselling author Lisa Jackson
Client Testimonial

"Guido Henkel's writing and gaming background and a lifetime of technical experience makes him the perfect guy to format ebooks. Your book deserves the best, so go with someone who has been here all along."
— Scott Nicholson, Liquid Fear
Client Testimonial

"I'm so thankful I had the good fortune to work with Guido Henkel. His services had come highly recommended by a writer whose opinion I valued, and I was not disappointed. He is that good. Guido formatted my manuscript and in less than 48 hours he sent me files that were ready to upload to Barnes & Noble and Amazon. He also formatted my manuscript so perfectly that it sailed through Smashword's meatgrinder on the first try. I loved everything about the finished product, from the clickable table of contents to the beautifully aligned text. I recommend Guido's services to everyone I know."
— WSJ, USA Today, and NYT bestselling author Tracey Garvis Graves
EBook formatting is not a trivial task with countless devices and display sizes out there, and I would be happy to help you with your project also, to whip your book into digital shape. My workflow is extremely streamlined and allows me to turn around eBook projects very quickly, usually within two or three business days. In urgent cases I can deliver even faster!
Here is a quick overview over the pricing structure I have in place so you can get a feel for the cost you should expect.
Additional fees may apply if a manuscript clean-up is required prior to the actual formatting process.
I reserve the right to include my name in the book's credits as the eBook formatter, complete with an email link. Since this is the only way for me to spread the word about my services and is reflected in my fees, if you do not wish to have such a credit included in your book, please be advised that an additional $100 fee will apply.

| | |
| --- | --- |
| $150 | General eBook formatting from a word processor manuscript. Includes mobi and ePub builds of the eBook, complete with provided meta-data and provided cover artwork. This price refers to novel-style books. Please inquire for a custom quote for all other types of eBooks, such as poetry books, guidebooks, etc. |
| +$50 | Additional formatting fee for books with a length of over 150,000 words |
| +$50 | Inclusion of decorative graphic elements, such as chapter heading vignettes, and up to three illustrations |
| +$50 | Inclusion of additional illustrations and/or graphical elements |
| +$25 | For any specialized, channel-specific build |
| +$50 | Preparation of a Smashwords document file |
| +$250 | Preparation of a print layout for CreateSpace, Lightning Source or any other printer |
I accept PayPal, checks and credit card payments, making it easy and hassle-free for you to get started, especially because there is no upfront payment. I will send you an invoice only once the projected is completed and you are perfectly happy with the results. At the end of the project you will receive all necessary files and fully built eBooks, along with the source HTML and document files, once full payment has been received. I do provide work-in-progress files and updates to make sure the eBooks look the way you want them to as we go through a revision process together to tweak all the details.
Client Testimonial

"I love using Guido for all my eBook formatting. He's smart, fast and knows the right questions to ask.  He transferred my Word document to HTML and guided me in the process of a well put together eBook, allowing me to focus on my work knowing that the e-book format would come out perfectly.  He's simply the best."
— #1 NEW YORK TIMES and USA TODAY bestselling author Nancy Bush
Client Testimonial

"I've used Guido's ebook formatting services for my Lawson Vampire novels and his work is without peer. Quick turnaround, great cost, and he's always a pleasure to deal with. Guido makes it easy to get your ebooks looking their absolute best! Highly recommended!"
— Jon F. Merz, author of the Lawson Vampire series
Feel free to contact me with questions or for a custom quote for your eBook formatting project by filling out the form below, or simply . I would love to hear from you and work with you on your next eBook project!
Together we can make it look like a million bucks!